Pharmacy DIR Fees and NCPA Advocacy Efforts
Fixing DIR has been NCPA's top priority for several years, and NCPA is grateful to our members and partners for their efforts to influence policymakers. In the 117th Congress, NCPA will continue to push for meaningful pharmacy DIR reform until it is achieved, and finally our members have relief.
Under the current system, pharmacy benefit managers (PBMs) – the middlemen hired by plan sponsors to administer prescription drug benefits – often claw back fees from pharmacies well after a transaction. Those fees, called direct and indirect remuneration (DIR), are often unpredictable and seemingly unconnected to a pharmacy's performance. The fees also disadvantage patients, who are assessed a higher cost-share against their Part D deductible rather than the retroactive, lower adjusted price. The result is to push patients more quickly into the so-called Part D donut hole, at which point the patient is responsible for a considerably larger portion of the costs of their prescription drugs.
Previous Administrations of both political parties have failed to finalize and adopt any policies or regulations through the rulemaking process which would have minimized or eliminated DIR fees. NCPA will be working diligently to inform and educate the Biden Administration of our positions and advocate on behalf of members.
While the regulatory process is currently stalled, NCPA continues to work with leaders in the Senate and House on legislation to reform the system. NCPA is also advocating for the adoption of standardized pharmacy specific quality measures that the pharmacy can truly influence.
Resources
Webinar: Recording of NCPA's Take on the CMS Final Rule
CMS CY 2023 Part D Final Rule One Pager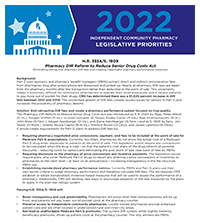 Stakeholder Letter is Support of CMS' Proposed DIR Rule
Senate Letter Supporting CMS' Proposed DIR Rule
House Letter Supporting CMS' Proposed DIR Rule
Stakeholder Sign On Letter - S. 1909, the Pharmacy DIR Reform to Reduce Senior Drug Costs Act
Stakeholder Sign On Letter - H.R. 3554, the Pharmacy DIR Reform to Reduce Senior Drug Costs Act
Policy Alert - Payers and PBMs Profit From Obscure Pharmacy Fees, While Seniors See No Relief in Prescription Costs
DIR INFOGRAPHIC 1: How Pharmacy DIR Fees Work
DIR INFOGRAPHIC 2: How Retroactive Pharmacy DIR Fees Hurt Medicare Patients & Taxpayers
Grassroots Materials for Pharmacists:
Please contact Michael Rule at mrule@ncpa.org or at (703) 838-2671 with any questions