General
Compression socks section resest
Compression socks section resest
"Don't Be A Weenie--Get Your Flu Shot Now"
Product now merchandised by price, not by size. Large bags of each flavor now can found on eye level shelf.
Relocated floor displays to fixture - added merchandise from backroom. 20-minute project.
Spray painted peg board!
Freshly spray painted black ceiling tiles!
Two-minute shelf fix
Essential Oils Display Before & After
Reposition shelves so customers can remove items easily
Centralia Pharmacy renovated entrance
waiting area Chancy Drugs
Create a shopping destination at the back of your store
Patient Birthday Card Example – Standard Pharmacy
What Makes This Customized Candy Rack So Successful
Klingensmith's Flu Shot Email/Social Media Promo Example
Good vs. Bad Sunglasses Racks
Cushions Display
Exterior Appearance
Goody's Merchandising
Farmacia Nueva--Exterior Appearance
Clean up your check-out counter
Display near a check-out counter
Premium Vitamins near a check-out counter
Great example of Merchandising well
Double and Triple Facing Vitamins
Re-Organized Gift Section
T-Shirt Idea
Newspaper Ad Introducing Pharmacists
Tweet Example to encourage Flu Shots
Simple and Effective Business Card
Specialty Products BEFORE
Specialty Products AFTER
Watch Display
Pet Care AFTER
Pet Care BEFORE
Weight Loss Display
Rocking Chairs in Waiting Area
Premium Shelving
Quality Wearable Items by the Checkout Counter
Beautiful Pharmacy Counter
Original Signage Incorporated Into New Pharmacy
New Waiting Area Sections
OTC Section
Move Aisles to Create Space
OTC Section
Diabetic Shoe Display
Waiting Area
Gift and Snacks
Gift Section
Gift Section
Candy Section
Exterior Appearance
Calendars in Card Racks
Burt's Bees Display
Snacks BEFORE
Snacks AFTER
Puzzles Display
Oral Hygiene Section
Chocolate in Card Racks
Humidifiers Display
Children's Books
Exterior Awning
Exterior Awning
Display of Heating Pads
Birdseed Display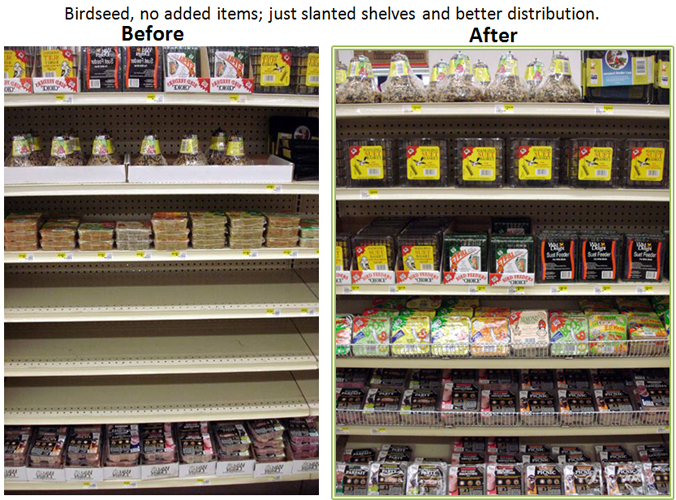 Merchandised to Sell
Snack Section
Snack Section