Dispose My Meds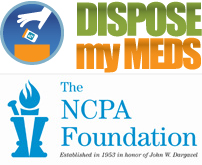 NCPA's prescription disposal program, Dispose My Meds™, offers information and resources for pharmacies to create medication disposal programs to help their patients safely dispose of unused and expired medicines.
Managed by the NCPA Foundation, this members-only benefit is designed to help independent community pharmacies protect their patients and the environment while potentially attracting new patients through a low-cost, turn-key program. To date, over 200,000 pounds of unused/expired medications have been collected by more than 1,600 participating pharmacies across the country.
NCPA members receive a discount on the Sharps TAKEAWAY Environmental Return System™, a safe, easy method to dispose of unused medications. Containers are available in either 10- or 20-gallon drop boxes or convenient postage pre-paid envelopes. Members also receive customizable marketing materials for their pharmacy and a listing on a national consumer website, www.disposemymeds.org.
Log in to sign up for the program, download marketing materials, and order Sharps TAKEAWAY™ boxes or envelopes.